NewsDate: 10-01-2019 by: Tiffany Won
SDE VIETNAM CO., LTD. IS RECOGNIZED BY SIEMENS PLM SOFTWARE AS SMART EXPERT PARTNER
In December 2018, SDE Vietnam Co., Ltd. was announced to achieve Smart Expert Partner status by Siemens PLM Software. The Siemens PLM Software Smart Expert Partner initiative recognizes Solution Provider Partners who successfully fulfill a comprehensive vetting and validation process that distinguishes them as market leaders with demonstrable business, product and industry competencies in specific Siemens PLM Software technologies.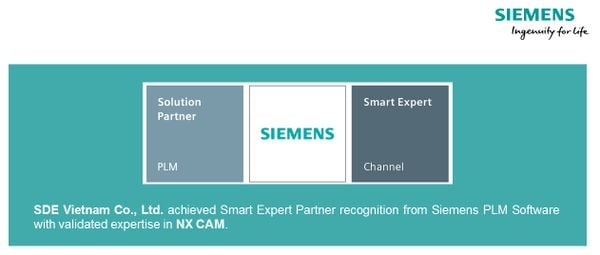 "Receiving the Smart Expert Partner designation from Siemens PLM Software demonstrates the ability of SDE Vietnam Co., Ltd. to deliver best practices and proven solutions that drive customer business value," said Mr. Phuoc Nguyen, Director of SDE Vietnam Co., Ltd. "With this designation, we are reinforcing our ongoing commitment to digitalization. By leveraging the end-to-end digital innovation platform from Siemens PLM Software, we can realize innovation and help optimize manufacturing performance for our customers."
Now, as an industry leader, SDE Vietnam Co., Ltd. possesses deep expertise and insight to better serve the customer by:
offering highly relevant advice to solving business challenges

helping you to drive innovation and valuable business outcomes

providing the flexibility to meet any business model whether on-premise or cloud-based

supporting your digital transformation journey wherever you may be
Customers demand advanced levels of competency to understand and address the growing complexities of digitalization in manufacturing. The Smart Expert Partner designation differentiates SDE Vietnam Co., Ltd. as a Siemens PLM Software and customer-validated industry expert in Siemens' digital enterprise software suite, specifically in CAD/CAM solutions like NX.
For enquiry, please contact:
Office: 1st floor, 135A Pasteur street, ward 6, district 3, HCMC
Phone: (84) 8 3910 4180
Email: sales@sde.vn
https://sde.vn/blogs/tin-tuc/
sde-viet-nam-co-ltd-duoc-hang-siemens-plm-software-cong-nhan-la-smart-expert-partner