NewsDate: 09-01-2018 by: Tiffany Won
SIEMENS PARTNERS WITH HP TO DEVELOP NEW ADDITIVE MANUFACTURING SOFTWARE
By Isaac Maw
Industrial tech giants HP and Siemens have partnered to develop an Additive Manufacturing (AM) software module. The new software module, Siemens NX AM for HP Multi Jet Fusion, is available from Siemens as part of their PLM Software for additive manufacturing. The software will only work with the HP Multi Jet Fusion system.
The NX software module will allow customers to develop and manage parts in a single software environment for their 3D printing projects, avoiding data conversions and third-party tools. The software can be used with a project from design to finished part. Siemens and HP hope the new software will help engineers take better advantage of 3D printing's capabilities.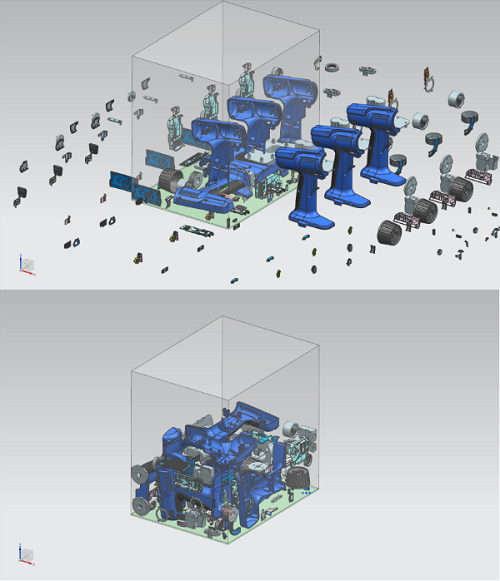 Auto-nesting improves packability in the build chamber, reducing cost per part. (Image Courtesy HP and Siemens)
Additive techniques have new, different limitations than conventional manufacturing. With today's 3D printers, it may be possible to cost-effectively produce new products at faster speeds than 3D printers of the past, which were mainly useful for prototyping.
Today, engineers and designers are used to following principles of conventional manufacturing processes such as injection molding. With additive, designs should be unconstrained by these principles. For example, a printed part can have internal features that would be impossible to release from a mold. As software and hardware advance with our understanding of the potential of the technology, this in turn will lead to expanded opportunities for the industrial-scale 3D printing of innovative designs.
According to the company, the NX software module will enable users to combine design, optimization, simulation, preparation of print jobs and inspection processes for HP Multi Jet Fusion 3D printed parts in a managed environment. Users can load multiple 3D part models into NX, auto nest the parts and submit them to an HP 3D printer.
In the future, the NX and Multi Jet Fusion integration is intended to allow control over including material characteristics down to the individual voxel-level. This will result in the ability to print parts with variable textures, density, strength and friction, as well as thermal, electrical and conductivity characteristics.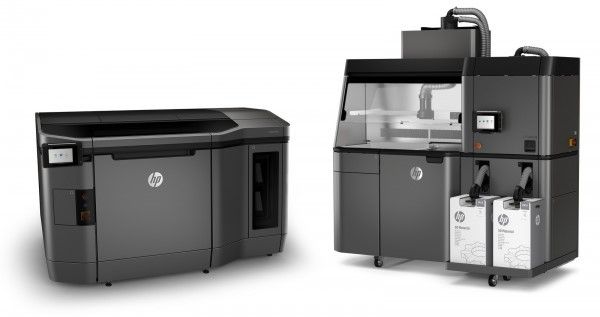 Multi Jet Fusion 3D Printer. (Image courtesy of HP)
HP's Multi Jet Fusion 3D is a commercial 3D printing system that uses powder bed fusion, in which an energy source—heat lamps, in this case—fuses particles of metal powder together point by point, layer by layer, until an object is complete. Siemens new software aims to provide product lifecycle management (PLM) and electronic design automation (EDA) software 3D printing solutions. Over time, as the hardware and software get better, manufacturers will establish additive manufacturing as a truly industrial production process.
For more information, visit Siemens and HP. For more on metal additive manufacturing, check out this great ENGINEERING.com whitepaper on the subject.
Source: engineering.com