3DVIEWSTATION Display
1. Desktop Version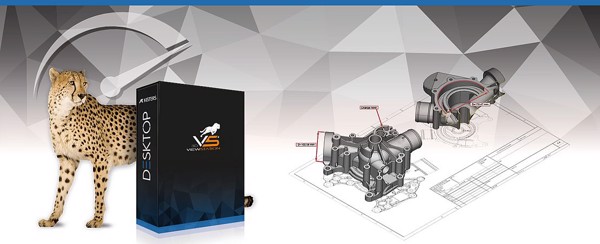 Fast, universal 3D CAD viewer for use on desktops, notebooks and Windows tablets.
The 3DViewStation Desktop version is the most popular product. It is installed on your local PC and can very quickly visualize over 60 data formats from the areas of 3D CAD, 2D CAD, Images and Office.
The classic for local use on Desktop and Notebook PCs

Reads over 60 data formats

180+ functions from simple visualization to advanced analysis and Digital Mockup

Extremely fast

Simple operation

True Multi-CAD DMU

Support of PMIs (Annotated 3D Models, MBD, MBE)

For small, medium and large manufacturing companies

Also ideal for power users and travelers who need to work with local data

For users of all processes of a company

Can also be used as authoring system
Fixed or floating (network) licensing
2. WebViewer Version

The 3DViewStation WebViewer version is the browser-based counterpart to our desktop version, with identical, rich functionality and performance.
It does not require any installation on the end device such as Notebooks, PCs, Tablet-PCs and Smartphones. It only requires an HTML5-capable browser – which is the case for all current browsers.
This makes the 3DViewStation WebViewer ideal for users who do not want to have a local desktop installation, but also for mobile users, since all possible end devices with Windows, Android, iOS or Linux operating systems are supported.
Excellent performance even at low bandwidths

No geometries on the end device

Supports many data formats, 3D and 2D

Many interactive functions, like Desktop counterpart

Many security functions for effective know-how / intellectual property (IP)
3. VisShare

VisShare is a web environment for manufacturing companies, MultiCAD-capable, ideal as an in-house solution, but also for mixed project teams consisting of internal and external people, and for employees who need to collaborate across locations.
Integrate your partners, customers and suppliers via a web portal that provides everything you need to share easily and securely, visualize, analyze and manage your 3D and 2D CAD data. VisShare requires no installation on the end device and is easy to use, easy to administer, simple for everyone. 
Simply bring data and people together for projects

User and group administration

Assign persons to a project or send temporary links

Set up a project in minutes

Integrated visualization for 3D CAD, 2D, images and office data

Provide data with Redline / Markups and save them in VisShare

Control access to data

No client installation, pure browser solution
4. VR-Edition

Virtual Reality (VR) solution to inspect and analyze large models. In combination with an HMD (Head Mounted Device), 3DViewStation VR-Edition is the inexpensive replacement to your Cave or Powerwall.
The 3DViewStation VR Edition let you virtually immerse yourself into your 3D models using VR glasses supported by SteamVR or Windows Mixed Reality. Head mounted device options are the: HTC Vive, Lenovo Explorer or HP Mixed Reality glasses..
You can move yourself within the objects or teleport ("beam") to a new position. Objects that were selected can be hidden or moved. For example, an entire vehicle can be lifted so that it can be inspected from the underside. Or you can select individual objects to dismantle an assembly.
No lead times – CAD data can be loaded directly without preparation

High performance

World class: VR session with millions of components, loaded in seconds

Visual navigation

Photorealistic rendering with materials

PMIs (MBD, MBE)

Views

Standard & advanced analyses

Almost every function available in the desktop version can be used

Integration capability – start VR session directly from the leading application thanks to APIs

Voice control possible

Direct data exchange with desktop and WebViewer versions